Vedado. CP 10400.
Unique 147m 2 apartment and beautiful because has the view of havana sea malecon from the balcony and all 3 bedrooms. It is located in the very center of the city. Owners are available 24h if needed. 24 h maids and Cuban chef. Taxis nearby
Living area: 147m2 Bedrooms: 3, bathrooms: 2
Capacity: 6 people, 1 extra bed if needed.
View: Panoramic, not overlooked, sea/ocean, town, city and street/avenue
Setting: City, picturesque
Parking: Parking in the basement of the building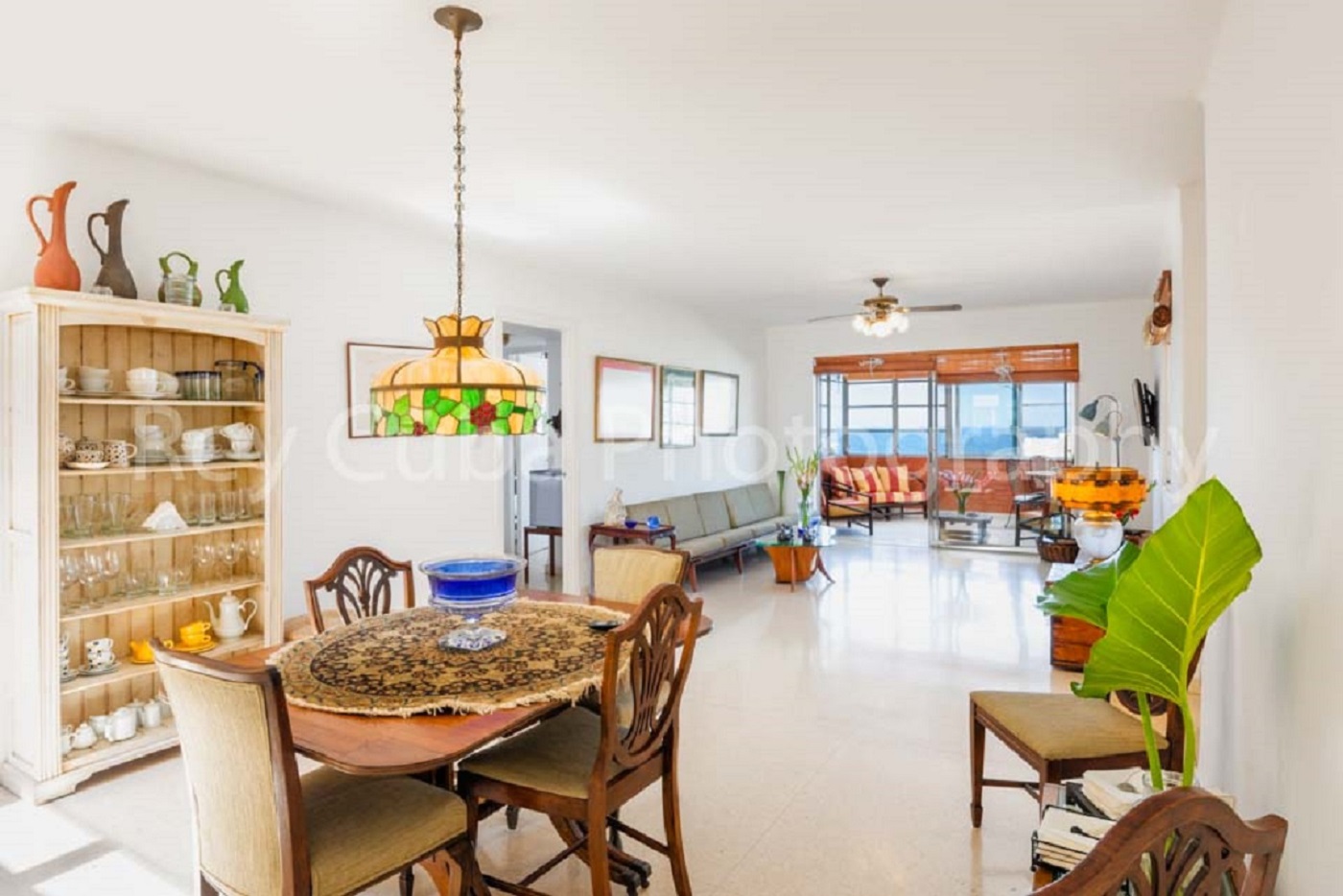 Visitors id must be handed to the attendant when they arrive.

You must keep the music at low levels.

You must park your car inside the garage at nights.

Check out at 1:00 p.m.
AIRPORT: In order to leave the Airport in a timely manner we suggest you bring onlycarry-on luggage, otherwise you shouldplan for some wait time until your luggage comes out through the luggage belts. The most reliable transportation method from the airport to the house is using Taxis, they are efficient and cost about $25.00.

MONEY: If you are a US bank account holder, the best option is to bring cash. Currently, very few US banks allow transactions in Cuba therefore your credit or debit card may not work. If you are not a US bank account holder, there are ATM machines available near the house. We always suggest travelers bring some cash because from time to time ATM's do not have cash. Most businesses only accept cash therefore carrying cash is always a good option. We suggest you only exchange currencies at banks or CADECAS which are the places intended for that.

TELEPHONES: Some cellphone companies have roaming service in Cuba but many do not. Most American companies do not offer service in Cuba, in addition roaming services in Cuba can be very expensive, we suggest you contact your cellphone carrier to verify whether you can have service in Cubaand to can also find out about the rates. If necessary, you can borrow our CUBAN cell phone at a price.

TAXIS: The best method of transportation within Havana City is by taxis. Renting a car is an option but is often more expensive.

WE SUGGEST: you get to know Havana with the use of a recommended tourism guide, the service for 4 persons or less is about $20.00 CUC, if you have a party of more than 4 persons you can negotiate a better price.

We strongly recommend you do not eat at any illegal restaurant or in a paladar that has not been recommended, always drink boiled or filtered water or buy factory closed bottles.